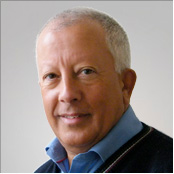 David Luddy
David Luddy is the Managing Director of DLI TV/RADIO SPORT - a London-based sports production company established in 1989 - which covers 18 sports in the UK and world-wide.
It has offices also in the United States. The company also produces travel programmes.
David is a former Fleet Street sports journalist and soccer reporter on The Daily Telegraph, the Daily Mail, The Sun, News of the World, London Evening News, London Daily News and a contributor to many sports magazines.
He is a well recognised television and radio sports broadcaster in the UK and around the world. His specialities are tennis, (currently 90 Grand Slams and hundreds of ATP and WTA events), tv commentating on tennis across the globe, badminton (major events and world championships), international football and cricket. He broadcasts on major world networks including the BBC, SKY, National Talksport (UK), CNN, ABC (Australia); Deutsche Welle, Radio New Zealand and Radio France apart from hundreds of other stations in the UK and overseas.
He has travelled to over 60 countries covering sport throughout Europe and Asia including China and Japan, Australia and New Zealand, the Middle East, South Africa, the United States and Canada.
He is a former ITV sports producer, a former IRN/LBC Sports Editor and an LBC Radio presenter (sport and non-sport).
Apart from tennis, badminton, soccer and cricket, he has covered athletics, cycling, hockey, rowing, golf, snooker, darts, horse-racing, gymnastics, squash, archery, triathlon, paralympics and ballooning.
He has made hundreds of sports and travel features and interviewed many of the world's top sports stars. His TV commentating on tennis spans the U.S. and Australian Opens, ATP and WTA events, and has worked for Eurosport, IMG, and CNN as an analyst. He was the voice-over for the ATP's weekly Highlight Show and currently contributes to ATP Uncovered and WTA Television.
As the former chairman of the Lawn Tennis Writers' Association he continues to liaise with Wimbledon on media affairs. He is currently the Events Secretary at the LTWA.

He was a former England junior table tennis coach; a top England table tennis player, a tennis referee, a tennis tournament director, a tennis coach, and was also the chairman of a major London sports club.
He is still a regular tennis player and in the gym 4/5 times a week when in the UK. He always carries a couple of tennis rackets around the world just in case.
In 2018 he returned to playing good quality table tennis to maintain his fitness and - after an absence of decades - is again playing chess. When in London he watches - as frequently as possible - Queen's Park Rangers in the Championship at Loftus Road. He covered QPR when he was the local sports editor in the last century. He's followed them ever since. During his spell as the local sports editor he was also a film, theatre and ballet critic.

He formerly ran several folk music clubs in London and managed two R&B bands.
David now lives in both London and in the Mid-West of the United States in Milwaukee, Wisconsin on Lake Michigan.
His current interests - apart from playing tennis, gym work-outs, table tennis and chess - include UK and world politics, history and Greek mythology. He reads Jeffrey Archer novels on plane rides, enjoys classic films, classic music and R&B.
Some of his favourite artists are Barbara Streisand, Phil Collins, Enya and the now disbanded Dire Straits. Ballet is a major favourite at Covent Garden and Sadlers Wells in London and the Milwaukee Ballet in Wisconsin.
Modern dance links with sports movement. Prokofiev's Romeo and Juliet at Covent Garden is his favourite as the choreography, music, lighting, costumes and sets satisfies the senses.
Eating at restaurants around the world is always a joy. But there is nothing like eating a juicy burger followed by a Wisconsin ice cream at Northpoint on Lake Michigan close to the city or having supper at an historic hotel in Venice right next to the Canal.

London though can't be beaten for museums and art galleries. But the Milwaukee Art Museum designed by Santiago Calatrava with its spectacular Kinetic structure, that opens and shuts its wings like a bird, is truly sensational.
A big treat is a mint chocolate chip ice cream made by Wisconsin's Cedar Crest - the best in the world.